Tentang Tanamera Coffee
Perjalanan Tanamera Coffee dimulai dengan satu mimpi: menjadikan Indonesia terkenal dengan kopi yang spesial. Misi kami selalu memberikan yang terbaik yang ditawarkan Indonesia. Seperti tanah vulkanik merah dari mana kami mendapatkan nama kami, nusantara memiliki tanah yang subur dan subur, sempurna untuk menanam kopi spesial.
Sejak awal, semua kopi kami dengan bersumber dari Indonesia, tempat kami bekerja sama dengan petani kami. Dari tanaman pertanian hingga cangkir di tangan Anda, kami hadir dalam setiap langkah proses – menanam, memelihara, memetik, memproses, memanggang, dan menyeduh.
Terkenal karena menghasilkan berbagai variasi rasa yang kaya rasa tahan lama, kopi Indonesia terkenal karena; bertubuh penuh, intens, kompleks, halus, manis buah. Dengan rasa cokelat, karamel, kemiri, selai blackberry, tembakau, pedas, herbal & jeruk! Ini hanyalah potret betapa mengasyikkan, lezat, dan berbedanya kopi kita.
Kami sangat bangga melayani Anda dengan kopi arabika kelas khusus pemenang penghargaan internasional terbaik kami. Semangat kami untuk kopi, apresiasi untuk prosesnya, dan pengabdian kepada komunitas – itulah yang menghubungkan kami!
Untuk Anda, untuk rekan kerja kami, dan untuk masa depan kopi spesialti di Indonesia.
Brand History
2013
Tanamera was established with one goal: to introduce Indonesia's specialty coffees to the world.
2015 2016
Participated in Melbourne International Coffee Expo and won the Champion International Roaster Award, beating 800 entries from around the globe. Today, our coffee beans have earned 51 awards... and counting.
2018
Began working together with local farmers across the country in providing education and has been consistently improving the coffee processing facilities ever since.
2019
First Indonesian Arabica Specialty Green Beans shipment to Moscow, Russia.
2020
New retail outlet opened inside Foodhall, Grand Indonesia, Jakarta. Moved to 1,000M2 of Warehouse and Roastery in Taman Tekno (BSD). First International outlet opened, close to One Raffles Place MRT in the heart of the CBD. Second International outlet opened at The Metropolis, Singapore.
2021
New outside outlet opened at The Plaza, Plaza Indonesia, Jakarta. First outlet opened in Kalimantan, Banjarmasin. Third outlet opened in Singapore at 8 Rodyk, Robertson Quay. Fourth outlet and roastery opened at New Industrial Road, Singapore. New HQ including Roastery and Cafe opened on Sunset Road, Seminyak, Bali. New outlet opened Primaya Hospital, Makassar.
2022
Fifth and sixth outlet opened at Tanglin Mall and SGX, Singapore. New outlet in progress for Manado, Sulawesi. New outlet in progress JMA, Surabaya
COFFEE PROCESS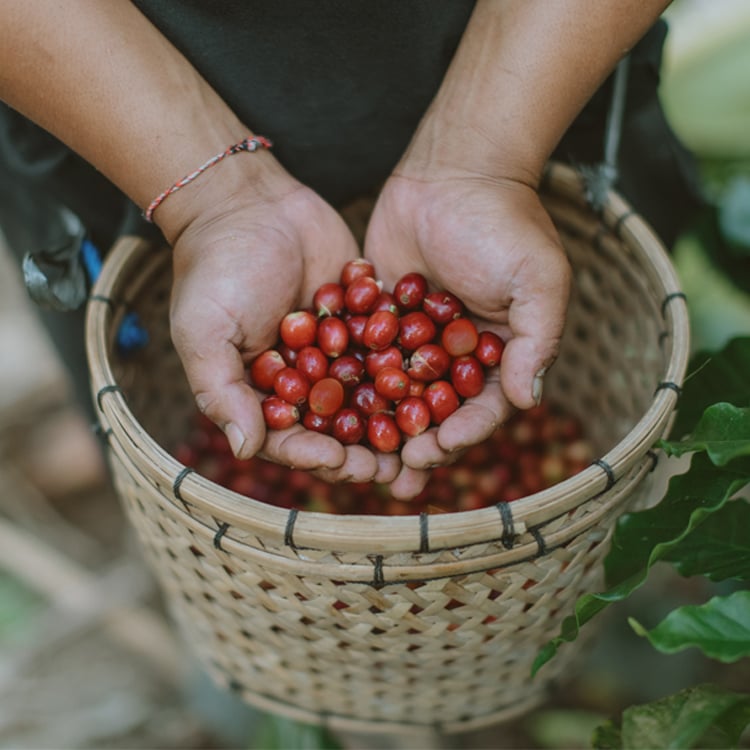 Harvest The Ripe Cherries
It might sound simple but coffee cherry-picking is actually a very important stage in the process. First of all, only the cherries at their peak ripeness are to be picked. They have higher aromatic oil and lower organic acid content, are sweet, more fragrant, smooth and mellow.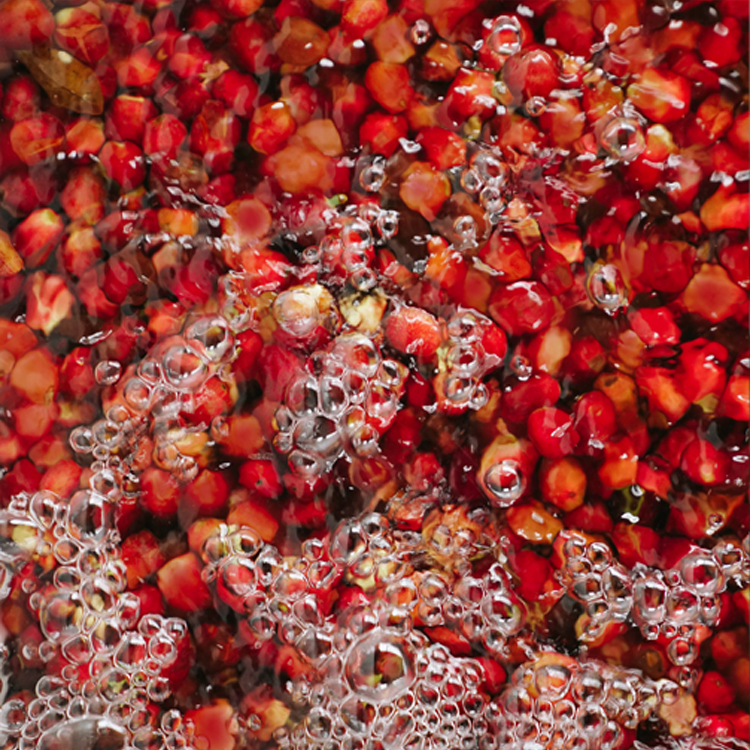 Sort and Remove Floaters
The picked cherries should be sent straight to the processing area on the same day, this is to prevent the cherries from fermenting. The cherries will then be carefully inspected to ensure they're bruise-free and there are no green or fermented cherries in the mix. We see good cherries that sink, and the bad ones that float.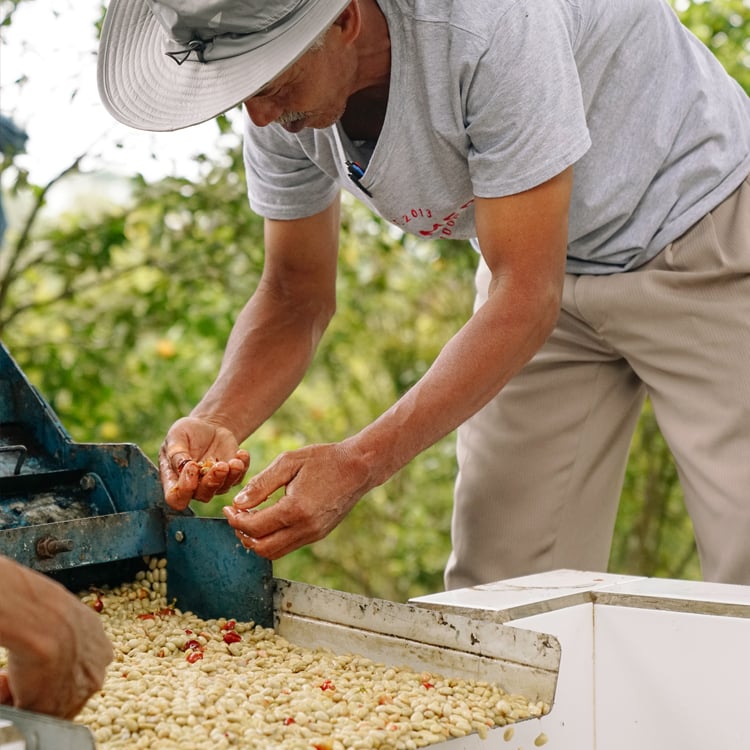 Pulp The Cherry Skin
The skin of the cherry and some of the pulp is removed by pressing the fruit by machine in water through a screen. The bean will still have a significant amount of the pulp clinging to it that needs to be removed. This is done by the ferment-and-wash method.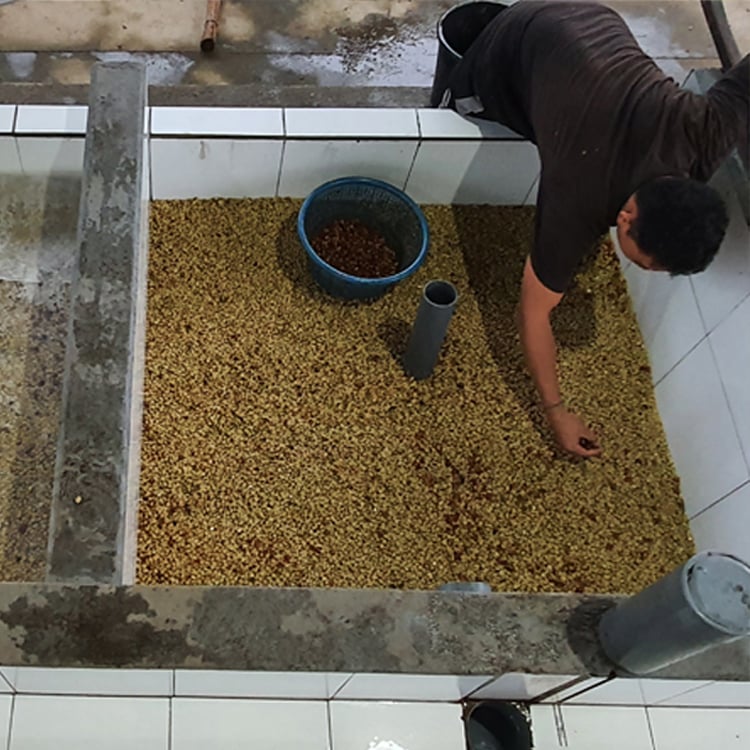 Ferment for Better Floaters
The pulp (mucilage) is very sticky, so to remove the remaining pulp from the seed, the cherries are then placed into fermentation chambers (water baths or barrels) and left to ferment for 36 hours.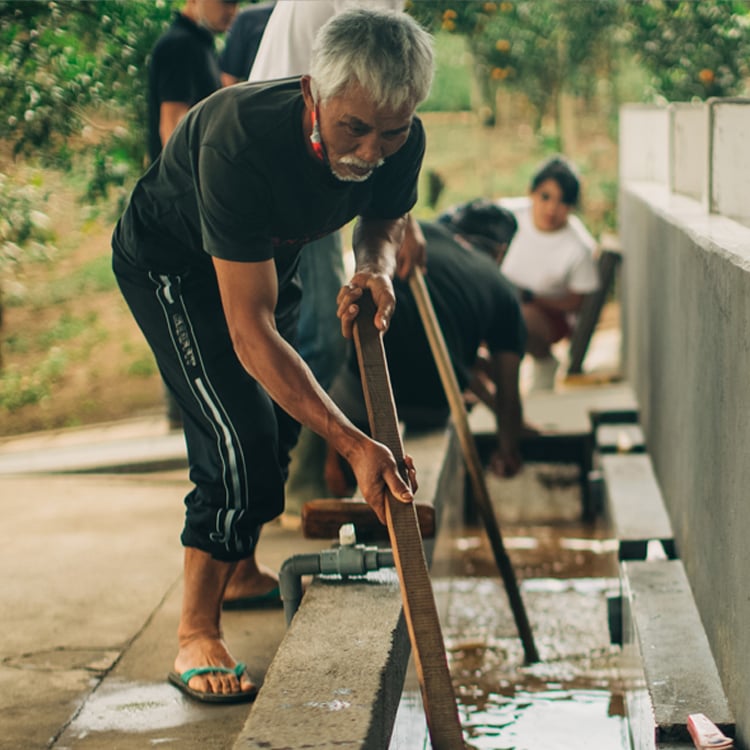 Wash With Clean Water
Following fermentation, the seeds are then rewashed, which removes any remaining pulp. At this stage the seeds (beans) contain just over 50% water. In the washing stage the quality of the water is critical, it must be clean, odourless, flavourless, and colourless. Ideally, the processing area should have a fresh-water well or stream.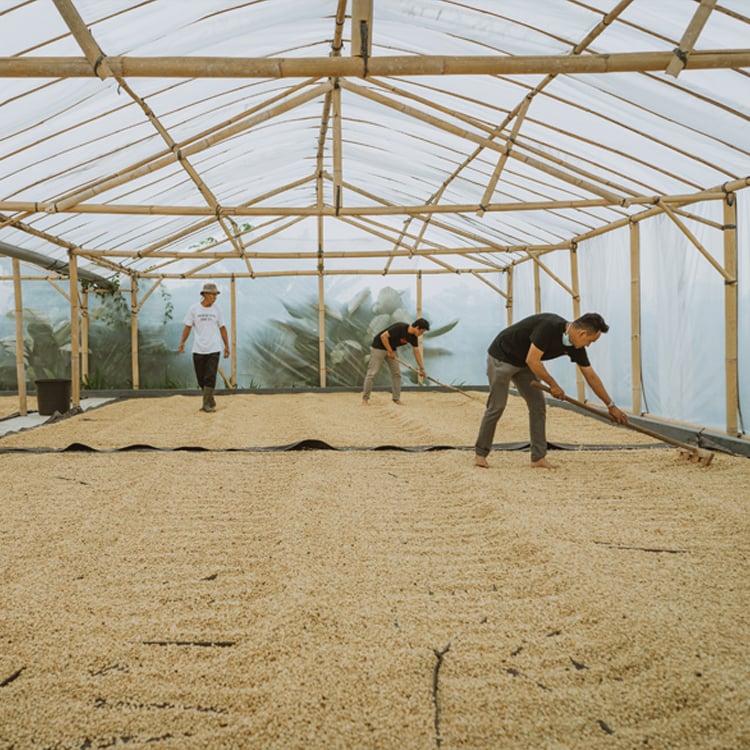 Dry The Parchment
In the drying process, time plays an important role. Dried too quickly or too slowly, dried unevenly, dried and then rewetted, not dried sufficiently -- all of these factors can be disastrous to the final quality of the coffee. To prevent any mould growing on the coffee bean, their moisture content must be below 12.5% so the seeds are air dried until they are below this level. Once dry, the beans are rested and hulled. This will take 2-3 weeks to finish.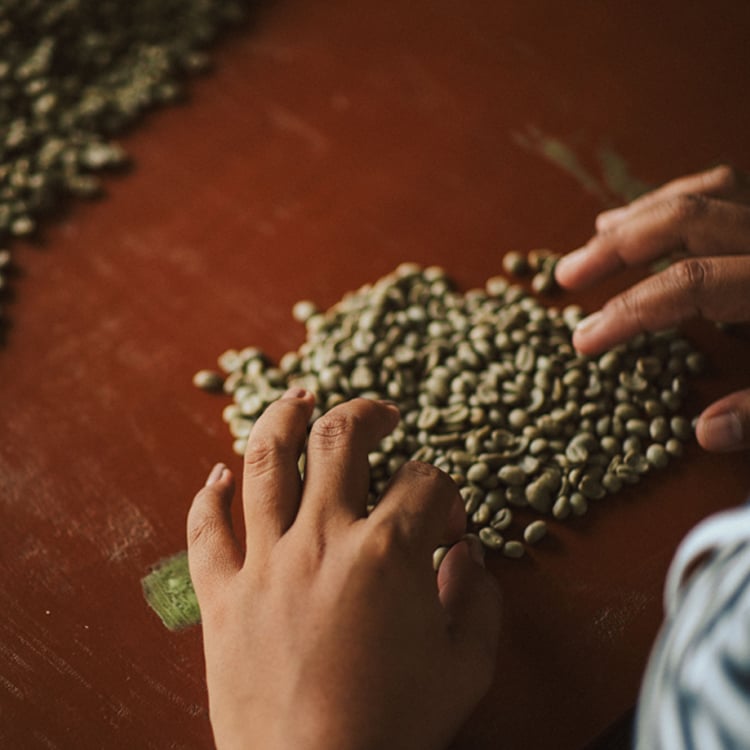 Sort The Defect Beans
After the coffee is rested and hulled, it is then cleaned and sorted. First by the density of bean and by bean size, and then by colour. The colour sorting may require two or three rounds to complete.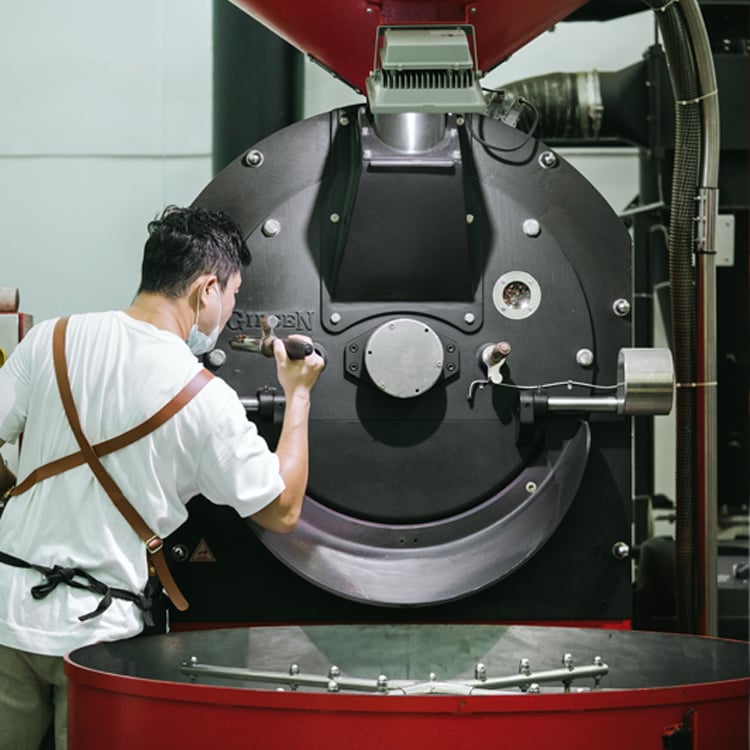 Roast Coffee Beans
This is where the fun begins for the master roaster. It is where they demonstrate their artisanal skill, highlighting their knowledge and expertise as unique roast profiles are created to bring out the very best of each bean type. This means changing roasting temperatures, roasting duration, the rotational speed of the drum and the airflow, etc. For example the coffee bean is roasted by both convection & conduction and getting the ratio right is just one essential parameter to set for achieving the perfectly roasted coffee bean.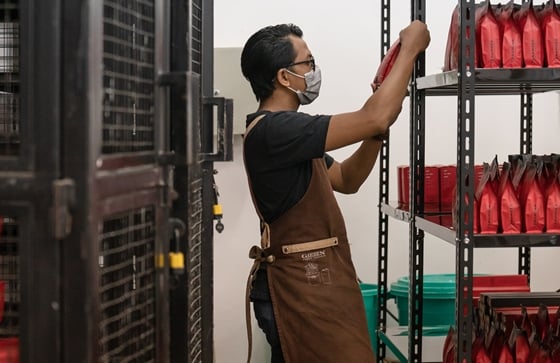 Packing
After that long process, the coffee is finally ready to be packed for you to enjoy. Still, this seemingly simple step of the process is not to be taken lightly. There are a lot of details that require attention. Like how the packaging needs to provide an inert barrier against oxidation and light to ensure the coffee stays fresh, yet accommodate for degassing with the one-way valve. The selection of transportation must also ensure the beans do not get cross-contaminated from smells of other products or are exposed to direct sunlight, extreme temperature, or humidity.
Brewing
Now it's your turn to have fun. There are different methods of brewing, which you can learn more here (linked to the "Brewing Guide" section).
SUSTAINABILITY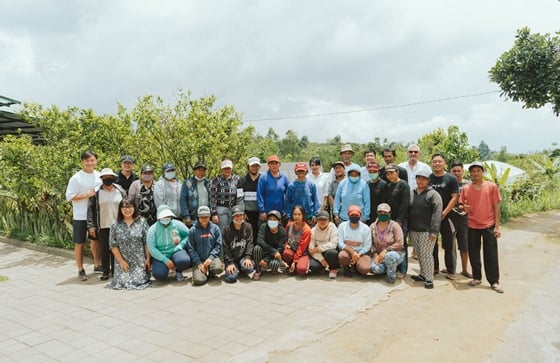 We have always been inspired by Indonesia's great potential to become a world-leading producer of true specialty-grade coffee. We believe that high-quality coffee starts with two substantial factors: the environment it grows in and the farmers that grow it.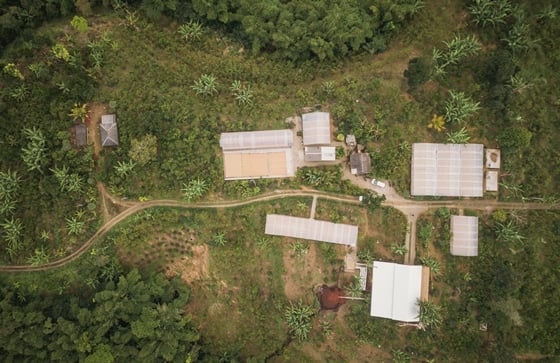 We believe in improving our farmers' quality of life by practicing fair trade. We also believe that fair trade doesn't stop at fair deals and better prices. It's also about educating the farmers. Right from the start, we've been working closely with the farmers, communicating a valuable feedback loop to them on international specialty coffee requirements. By doing so, together we improve both the quantity and quality of the coffee as well as the financial wellbeing of the farmers.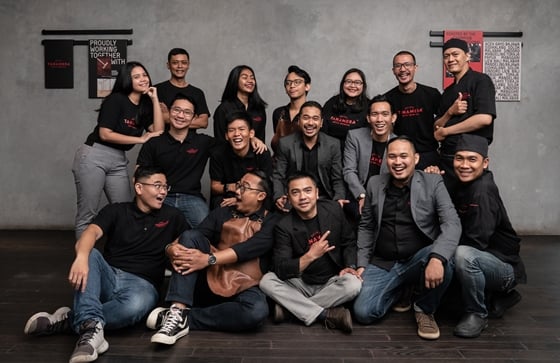 We also constantly research and discover new ways to improve the farming practice to make production more efficient and sustainable, to increase the quality of the coffee itself, all while making sure it's sustainable for future generations. Of course, it's not just the farmers. We're also committed to improving the quality of our fast-growing Tanamera Coffee family. From our front-of-house to our roastery team, we believe good communication, welfare and diversity is key.