OUTLET & PRODUCTS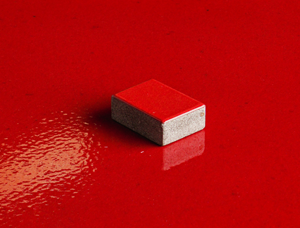 Lava Stone Tabletop
Found in select outlets, Tanamera Coffee features tabletops made of Lavastone, a result of a natural volcanic eruption from the active stratovolcano of Mount Merapi in Central Java, Indonesia. As a form of respect to its ecological nature, the tabletops are cut using ancient stone-breaking method. The use of this natural material is aligned with Tanamera Coffee's sustainability movement, as well as the lavastone's unique properties which include fire-resistance, UV color-stability, anti-stain, anti-scratch, waterproof, and anti-bacterial.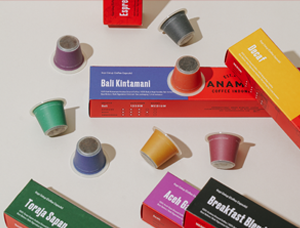 HOME COMPOSTABLE COFFEE CAPSULE
Tanamera Coffee's sustainability movement doesn't stop at its establishments' doors, it follows you home and into your everyday routine with the Home Compostable Coffee Capsule. Start your day knowing you're saving the planet when you enjoy Tanamera Coffee's coffee capsule made from home compostable materials, packaged with a specialized process to guarantee an oxygen-free barrier for its coffee grounds, ensuring freshness and consistency. The Tanamera Coffee Home Compostable Coffee Capsule comes in seven variants: Breakfast Blend, Espresso Blend, Toraja Washed, Rasuna Natural, Aceh Gayo, Bali Kintamani, and Decaf.
ECO-FRIENDLY TAKEAWAY
Still in the brand's efforts to keep our planet safe and sustainable, Tanamera Coffee reduces its plastic usage for takeaway orders by using paper bag for pastry and coffee beans, paper tray to carry any beverages, spunbond bags for online deliveries, and bagase for food products.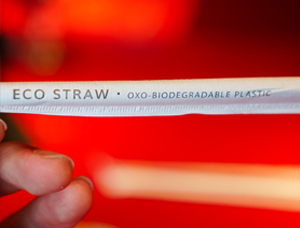 ECO-FRIENDLY STRAW
Being in the eco-conscious beverage business, Tanamera Coffee only uses eco-friendly straws which are oxo-biodegradable, ensuring them to be completely decomposed by microbes.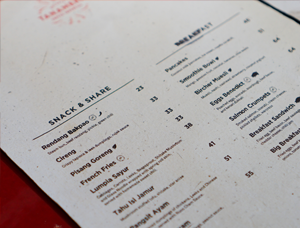 RECYCLED PAPER FOR MENU & TAG
Tanamera Coffee applies its eco-consciousness in every aspect of the business, including the dine-in utilities: menus and tags which are printed on eco-friendly 100% recycled paper.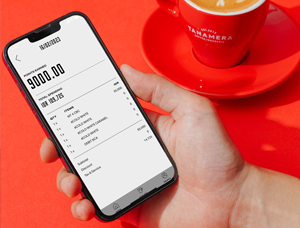 PAPERLESS RECEIPTS
In the height of the pandemic, Tanamera Coffee released MyTanamera mobile app on PlayStore and AppStore in 2020, which continued on to the application of e-bills in January 2023. With this app, customers will get their electronic receipts directly to their app, and also get numerous benefits such as promo vouchers, sustainability messages, et cetera, as they join MyTanamera.